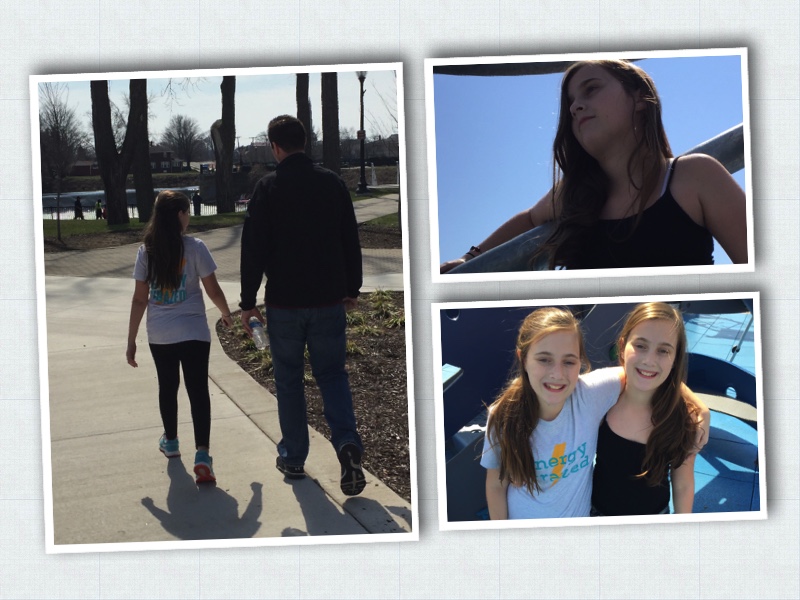 Probably the best way we can boost our energy level and feel better about ourselves is to just move around! We've all heard that regular exercise improves our moods, but that doesn't mean you need to be ready to run a marathon—walking gives you a lot of the same benefits.
Everyone has to start somewhere, and it's okay to start small. A walking regimen is a great option for teens new to exercise and people looking for something to do as a group.
Keep these tips in mind, and you'll be sure to start out on the right foot!
Get a walking plan that's right for you.


Having a clear walking plan makes it easier to build your walking muscles up week-by-week. We really like this walking chart from the American Heart Association. Check it out! It's simple and straight-forward, and they even let you take Fridays off for rest days if you want. This plan covers 6 weeks. Feel free to search for other walking schedules online too.The main thing is to find a plan you like and that you'll actually stick with. Print out your chart, sign your name on it, and hang it up in your bathroom or by your closet—seeing it every day will be a motivational reminder to keep up the good work.
Look for other ways to move throughout the day.


Know that exercise doesn't just happen during your timed or scheduled walks. You can get moving just because you like it! Sure, it's great to walk outside with you pets if you have them, but don't let that stop you.You can get extra steps in just from walking to check the mailbox, or by dancing in your bedroom to some new music. (Seriously—it's great for blowing off steam! Plus no one will be there to steal your awesome dance moves.)
Dress for success and watch the weather.
It's fine to do your walking on a treadmill, but sometimes it's nicer to go exploring outside. If you're going to take your walks outdoors, be sure to wear the right clothes. Wear a light jacket if you need it and always pick out comfortable gear for exercise.Your shoes might be the most important part of your walking gear—especially for beginners. Always go with a sturdy pair of sneakers, even in summertime. Your feet need to be supported, so don't wear flip-flops. Baseball caps or sunglasses will help you feel better if it's really sunny and warm.
Keep your own walking log.
Every time you go out and complete a day on your walking plan, make some notes on how you felt. Some people like to track progress on their phone, while others like to keep it in a journal. Do whatever makes the most sense for you.Key details you'll want to note are the weather, what time you went out and where you went, how you felt before your walk, how you felt after, and maybe what kind of healthy snack or how much water you had before you started. Tracking your exercise makes it easier to share updates with your friends, family, and mentors. And having these notes will help you see your solid progress each week.
Make it fun!
Mix up your walking schedule by taking new routes. Walk down different streets in your neighborhood or go visit some nearby parks. A change of scenery will help keep your walks fresh. If you want a distraction, go ahead and listen to an audiobook or some upbeat music.Exercise can be even better with company, so go ahead an invite a friend to join you if it sounds fun. No worries if you want to go solo though—a lot of people look at exercise as their "me-time." You might feel the same way. Walking can quickly become one of the best parts of your day if you use the time to unwind and enjoy yourself.
Remember: all great journeys start with a single step. Print out your favorite walking plan, get moving, and have fun!