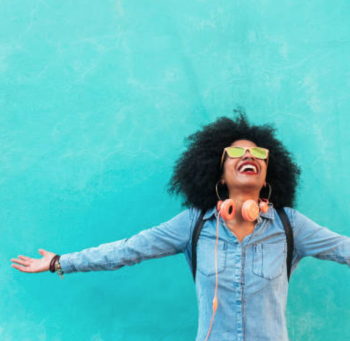 Four years ago I found myself completely at the mercy of my emotions. My emotions controlled my decisions and because of it I dealt with several outcomes. One of those outcomes was transferring colleges my freshman year.
I visited my new college on a gloomy November day. I perused the campus bookstore and stumbled upon this brightly colored journal that read, "Choose Joy" on the cover. At the time, journaling my emotions felt daunting and it felt like opening a can of worms I'd rather keep shut. Nonetheless, I bought the journal and took it to the Starbucks connected to the bookstore.
I remember staring at the cover waiting for some kind of inspiration to hit me so that I could write about something other than my current circumstance. When I couldn't come up with anything else, I bit the bullet and faced allowing my raw thoughts and emotions to stare back at me.
I thought hard about the meaning of the cover. "Choose Joy" just sounded so simple and easy. I realized I was drawn to the cover because truthfully I was not choosing joy.  I wasn't choosing joy because despite how the phrase sounds, it just wasn't so simple and easy. Then I started putting it into practice.
Since taking home that journal I've made countless choices. Sometimes I make the right ones, other times I don't, but either way I try to have joy somewhere in that equation. Just last week I caught myself letting my emotions overwhelm me. I sat up and gave myself two options: let myself be miserable, or do something about it. Both were honestly uncomfortable, but one was obviously the better choice. I didn't necessarily choose joy in that moment, but I chose to change my emotions. Ultimately joy lies in controlling your emotions.
Sidenote: transferring colleges ended up being the best choice I've ever made. Sometimes getting derailed is a good thing.
Reflection
Think of a time when you let your emotions respond to a situation. What was the outcome?
When you're stressed, sad, anxious, etc. what is your typical behavioral response? How could it be different?
What does "choose joy" mean for you?
**A special thank you to Alyssa Fuller for contributing and sharing your story with Energy Krazed.