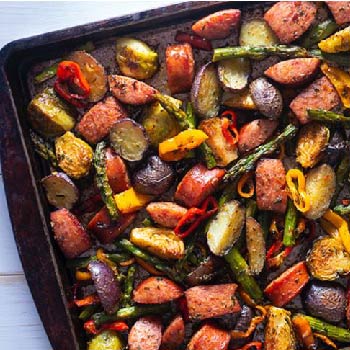 We're ROOTING for more flavor on our plates, are you??
1/2 lb carrots
3/4 lb red potatoes
1 medium parsnip
1 lb sweet potatoes
1/2 lb beets
1/2 red onion peeled
6 garlic cloves
1/4 c olive oil
2 tbsp fresh thyme
5 sprigs rosemary
1 tsp ground cumin
1 tsp salt
1/4 tsp pepper
Heat oven to 400 degrees. Slice and dice all root veggies. Put in a bowl and mix with olive oil, and seasonings. Place on parchment paper lined cookie sheet. Roast the vegetables in the oven for 15 minutes. Stir the vegetables, bringing the chunks from the outside towards the center and the chunks in the center out towards the edges. Return baking sheet to oven and continue to roast until the largest chunks are tender and the edges are starting to turn golden/dark, another 15-25 minutes.