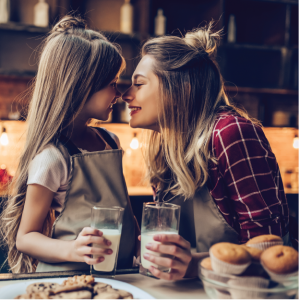 The happiest time of year can also be the most stressful time of year, specifically when it comes to food.
The holiday season is  like the Super Bowl of family recipes; it's basically a chance for all the cooks and bakers in the family to show off their famous dish.
While we never know if we'll have a white Christmas or make it to grandma's house on time, we do know that no matter what, a plate of Great Grandpa Honeybunch's fudge will be within ten feet of us at all times. It never fails, and we're definitely not complaining.
Here's the thing: your favorite dish that only your grandma can make shouldn't stress you out, but if you are like many, it does. Why? Because for every other span of time not existing between November 22 – January 1 many of us are doing our very best to prioritize our health by eating nutrient dense foods. Of course, many of us slip up and some weeks are better than others. However, our typical diet does not contain the foods we'll be surrounded by during the holidays. That's why many of us get stressed out.
How many of you have contemplated the two plans of action?
Bring a pair of sweats and prepare for battle. The calorie limit does not exist and if we run out of hot water we will gladly bathe in this gravy.
Starve ourselves all day until the time to really feast comes around that way we'll  have room and calories to (maybe) spare.
We can tell you that walking into the holidays with both of those mindsets will leave us all full of regrets and wishing that we focused more on the love we were surrounded by… not the calories.
This year, we challenge you to go into it with a bigger and more balanced perspective. You can enjoy those recipes that date back to when our ancestors used to churn butter in moderation without completely falling off the wagon. After all, the gym and  usual routine will still be there just like everything else will after this season ends.
And since it ends, let's all enjoy it.
 
Reflect:
What's your favorite holiday meal?
What  are you most looking forward to this holiday season?
If you begin to feel guilty for eating more than you usual intake of calories, what are three positive affirmations you can tell yourself?

How comfortable do you feel turning down an offer for more food from a relative?
If your answer to the above question is "very uncomfortable," what is a response you could have?