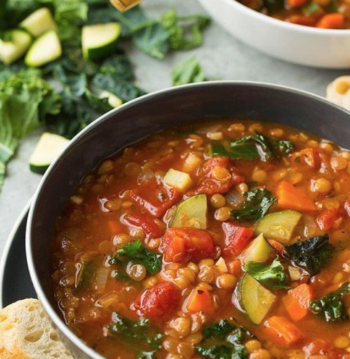 This will warm you up! 🍂🍁🍂🍁 Italian Vegetable Soup
2 Tbsp olive oil
1 1/2 cups diced carrots (3 medium)
1 1/2 cups diced yellow onions (1 medium)
1 1/2 Tbsp minced garlic (4 cloves)
4 (14.5 oz) cans vegetable broth
2 (14.5 oz) cans diced tomatoes
1 1/4 cups dried brown lentils , rinsed and picked over
1 1/2 tsp dried basil
1/2 tsp dried oregano
1/2 tsp dried thyme
Salt and freshly ground black pepper
1 1/2 cups diced zucchini (1 medium)
2 cups packed chopped kale or spinach
1 Tbsp fresh lemon juice
Parmesan cheese , for serving (optional)
Instructions -Heat olive oil in a large pot over medium-high heat. -Add carrots and onions and saute 2 minutes then add garlic and saute 2 minutes longer. -Pour in vegetable broth and tomatoes. Add in lentils, basil, oregano, thyme and season with salt and pepper to taste. -Bring to a boil then reduce heat to medium-low, cover and simmer 35 minutes, stirring occasionally. -Add in zucchini and kale and simmer 10 minutes longer, if using spinach wait to add it until the last 2 minutes.
Stir in lemon juice and add up to 1 cup of water to thin as needed (as the soup rests the lentils soak up more of the broth). Serve warm with parmesan cheese if desired.