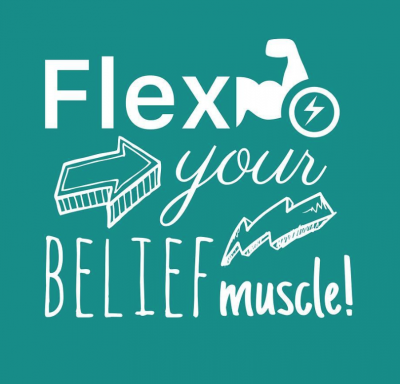 One of the most important areas of focus when reaching for a goal, especially fitness goals is that you focus on building the most important muscle in your body…your BELIEF MUSCLE! Ok-so we kinda made this term up BUT we really want YOU to think of "BELIEF" as a muscle, it's something that you have to intentionally work on strengthening EVERY DAY!
Believing in yourself has got to be the foundation of every goal (academic goal, health goal, career goal, relationship goal) YES every goal! You must START each goal by first believing that you CAN achieve it-even if it's a big scary hairy crazy audacious goal! Then, every day you must continue to grow that belief, even on hard days-ESPECIALLY on hard days!
Positive affirmations, vision boards, and reading or listening to personal development are all beneficial ways to build your belief muscle daily! Commit to one of these daily habits and watch as your belief muscle grows big and strong! You've got this! We believe in you too!